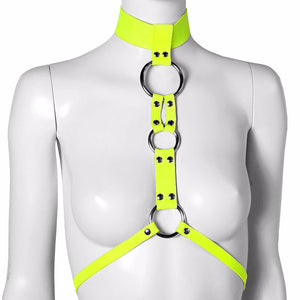 With high visibility, the neon yellow 'Caution Harness' is a tough and risqué statement piece.
All accessories are made to order with your specific measurements. Once your purchase has been made, Sparkles will contact you for your measurements. Each harness is handmade and requires up to one week to construct. 
Layer over clothing or wear on bare skin
Neon reflective fabric
Lined in patent white leather
Heavy hardware: buckles, rivets & O-rings
Made in Montreal
For international orders customs are not included and must be handled by the customer/importer.